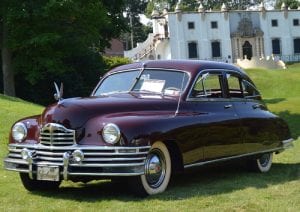 The Vanderbilt Cup Region chapter of the Antique Automobile Club of America (AACA) will hold its annual antique and classic car show at the Vanderbilt Museum on Sunday, August 21, from 11 to 4 p.m. The Museum is located at 180 Littleneck Road, Centerport, N.Y.
More than 50 cars will be displayed on the Great Lawn next to the Vanderbilt Mansion, overlooking Northport Bay.
Visitors pay only the museum's general admission fee (adults $7, students with ID and seniors 62 and older $6, children 12 and under $3) – there is no additional charge for car show. Museum members enter the show free.
Owners of any car at least 25 years old are welcome, according to AACA rules. The event will include the awarding of Peoples' Choice trophies. Pre-registration is $15, and $20 on the day of the show. Food will be available for purchase.